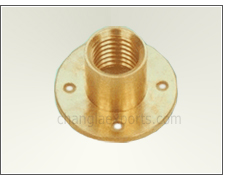 Brass Wood Anchors Brass Anchors, brass anchoring systems, spring anchor, plain anchor, anchor with threaded.
Material :
For Manufacturing of the sturdy anchors in brass, high grade brass rods are cut and holed and threaded for reliable anchoring.
Platting :
Natural, Nickel Plated, Tin Plated or any coating as per customer specification. Any Kind of Brass Anchor can be developed as per customers specifications.
Size :
4 mm, 5 mm, 6 mm, 8 mm, 10 mm, 12 mm, 16 mm,
Corrosion resistant and hence can be used in all environments
Embossed surface provides extra grip
Inside conical shape ensures equal expansion of segments while screwing
Very useful in building material viz. concrete, brick, natural stone and also in wood
Temperature resistant
Simple and easy to apply
Installation:
Drill a hole as per the external diameter of Brass Anchor
Hammer the Anchor into the hole
Take a required bolt for screwing
Fix it with suitable spanner